Website design for contractors is an important aspect of digital marketing. It is the first impression potential clients have of your business. Therefore, it's vital to create a website that represents your brand professionally, makes it easy for potential clients to find the information they need, and motivates them to contact you. Here are some specialized website design tips for contractors.
Put Your Best Virtual Foot Forward with Professional Contractor Website Design
No matter the service, your clients are looking for someone who pays attention to the details. Your website offers a first impression that can decide whether or not they book your services. The design of your contractor website should make it easy for customers to find the information they need and connect with your business.
1. User-Friendly Navigation: Make it easy for visitors to find what they're looking for with a well-organized menu and a clean, intuitive layout.
2. Professional Appearance: The look and feel of your website should reflect the quality of your work. Use high-resolution photos, a clean font, and colors that match your branding.
3. Consistent Branding Elements: Ensure that your logo, color scheme, typography, and overall aesthetic are consistent throughout your website. This consistency helps to strengthen your brand identity.
4. Unique Selling Proposition (USP): Clearly communicate what makes your brand unique. Whether it's your decades of experience, superior materials, exceptional customer service, or innovative techniques, ensure that your USP is prominent on your website.
5. Responsive Design: Your website should be mobile-friendly, as a significant number of your potential clients will likely be using their phones or tablets to view your site.
6. Loading Speed: Ensure your website loads quickly. Slow loading times can deter potential clients and negatively impact your search engine optimization (SEO) ranking.
7. Professional Imagery: Invest in high-quality, professional images that reflect your brand's personality and the quality of your work. If possible, avoid generic stock images and instead opt for photos of your actual team and projects.
8. Portfolio Showcase: Display your best work through high-quality photos and detailed descriptions. This can greatly impact a potential client's decision to hire you.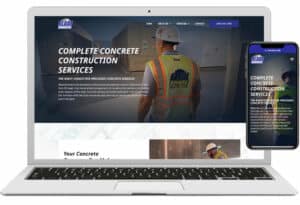 Let Your General Contractor Website Establish You as an Industry Expert
Potential clients need confidence in the person they are going to hire. Your contractor website is the perfect opportunity to share details about your operation that highlight your experience and expertise. As you add information, keep clean design in mind, establishing logical divisions and dedicated pages to avoid overwhelming users with clutter.
9. About Us Page: Use an "About Us" page to tell your story. Highlight your experience, qualifications, and what sets you apart from other contractors.
10. Brand Story: Share your brand's story on your "About Us" page. This could include your values, mission, and what sets you apart from other contractors. A compelling story can make your brand more relatable and memorable.
11. Show Proof of Insurance: Mentioning that you are fully insured can provide a sense of security to potential clients. Some businesses even choose to provide more detail about what their insurance covers.
12. Display Affiliations: If your business is affiliated with any professional or industry organizations, be sure to mention this. Displaying the logos of these organizations can also add visual proof of your affiliations.
13. Awards and Accolades: If your business has received any awards or accolades, these should definitely be showcased. They serve as proof of the quality of your work.
14. Training: If your team has undergone any special training, mentioning this can show your commitment to professional development and quality service.
15. Highlight Certifications and Licenses: Prominently display any certifications or licenses your business holds on your website. This could be on the "About Us" page, on the home page, or even in a dedicated "Credentials" section.
16. Third-Party Logos: Logos of brands that you work with, tools you use, or products you offer can all add credibility. They show that your business is trusted by these well-known brands.
17. Testimonials & Reviews: Feature testimonials and reviews from past clients on your website to build credibility and trust.
18. Blog Section: Regularly publish helpful blog articles related to your industry. This practice can help position you as an expert in your field and improve your SEO ranking. Adding new content also shows viewers that your business is actively engaged.
19. Detailed Service Explanations: Having dedicated service pages allows you to provide more in-depth information about what each service entails, the process, the materials used, time frames, and more. This can help potential customers understand exactly what they're getting.
20. Process Overview: Have a dedicated section or page on your website that outlines your process. Divide it into stages, such as initial consultation, quote, design, construction, post-completion, etc.
21. Step-by-Step Walkthrough: Provide a detailed walkthrough of each step in your construction process. Explain what the client can expect, what is expected from them, and how long each stage usually takes.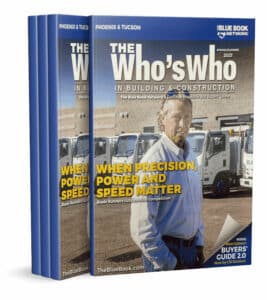 Anticipate Client Needs with FAQs
It is natural for clients to come to your website with questions. An FAQ section or page shows them that you understand their needs. This feature also saves you time because you won't be repeatedly answering the same queries. Be sure your FAQ page is accessible from every part of your website.
22. Service-Specific FAQs: If you offer various services, consider having FAQs for each one. This can help potential clients find the exact information they need.
23. User-Friendly Layout: Arrange your FAQs in a user-friendly way. You could group questions by topic or have a search function that allows users to quickly find what they're looking for.
24. Clear and Concise Answers: The answers to your FAQs should be clear, concise, and straightforward. Avoid industry jargon and explain everything in simple terms that anyone can understand.
25. Links to More Information: Where relevant, include links in your FAQ answers to blog posts or other parts of your website for more detailed information.
26. Continual Updates: Keep your FAQ section updated. As you receive new questions from clients, consider adding them to your FAQ page.
27. Contact Information: At the end of your FAQ section, remind visitors that they can reach out to you if their question wasn't answered or if they need more information. Provide your contact details or a link to your contact form.
Careful Contractor Web Design Improves Your Conversion Rate
When your site is put together by a professional team, it can remove barriers that prevent leads from converting into contracts. You will instill confidence in your skills and make it easy for clients to reach out and book your services.
28. Call to Action: Include clear call-to-action statements throughout your website. These can guide visitors toward contacting you or requesting a quote. Using calls-to-action tailored to specific services can increase conversions.
29. Contact Information: Make it easy for potential clients to contact you by prominently displaying your contact information on every page, preferably in the header and footer.
30. Online Quote Request: Include an online form for potential clients to request a quote. This simplifies the process for both you and the client.
31. Chatbot or Live Chat: Consider adding a chatbot or live chat feature to your website. This provides immediate support and answers to potential clients.
32. Service Area: Clearly state your service area on your website. This can prevent confusion and help local search engine optimization.
33. Promote Your Referral Program: If you have a referral program, create a dedicated page for it on your website, explaining how it works and what the rewards are. Make the process of referring others as easy as possible. Provide an easy-to-use form for customers to share their referrals or enable them to share referral information via social media.
34. Warranties and Guarantees: Be sure to detail any services you offer post-completion, such as warranties, maintenance services, or follow-ups. Keep explanations of your warranties simple to prevent confusion, clearly stating what your programs cover. This shows your commitment to client satisfaction even after the project is completed.
Your Website Is a Marketing Tool
It is easy to forget that your website serves two purposes. Your pages share information about your business, but superior contractor website design makes your site a powerful tool for generating leads. Some of the strategies professional developers use include:
35. Employing SEO Best Practices: Ensure your website is optimized for search engines. Use relevant keywords in your content, including the types of services you offer and the locations you serve.
36. Social Media Integration: Link your website to your social media profiles. This allows potential clients to engage with you on various platforms.
37. Branded Social Media: If your website links to your social media profiles, ensure they're also consistently branded. This means using the same logo, color scheme, and tone of voice.
38. Link Building: Service-specific pages give you more opportunities for internal linking and can help you build a more robust link profile.
Partner with the Experts in Digital Marketing for Contractors
The quality of your website should match the high standards you bring to every project. BlueSoft designs and delivers contractor websites that will add value to your business. We understand what your potential clients are looking for, and we will launch an engaging website to bring them to your virtual door.
Don't let an average site cost you leads and conversions. Work with us and enjoy the benefits of a contractor website designed for business growth. Are you ready to leap ahead of the competition? Click to schedule your free consultation with us today!