In today's digital age, having a strong online presence is crucial for businesses of all types, and contractors are no exception. Whether you're a general contractor, home builder, or remodeler, your website can significantly influence your ability to attract and retain clients. This blog post aims to serve as a comprehensive guide to understanding and successfully navigating contractor website services.
Contractor website services encompass a range of offerings designed to help contractors establish and maintain a robust online presence. They include website design and development, search engine optimization (SEO), content marketing, and mobile optimization, among other things. These services are essential as they can determine how effectively your website attracts visitors, engages them, and ultimately converts them into clients.
Essential Features of Contractor Websites
An effective contractor website needs several foundational features to effectively communicate your business's offerings and build trust with potential clients:
Each service you offer should have its own dedicated page. This not only helps potential clients easily find the information they're looking for, but also enhances your website's SEO by giving you more opportunities to use relevant keywords. Each service page should provide detailed information about what the service entails, the benefits it offers, and why clients should choose you for it.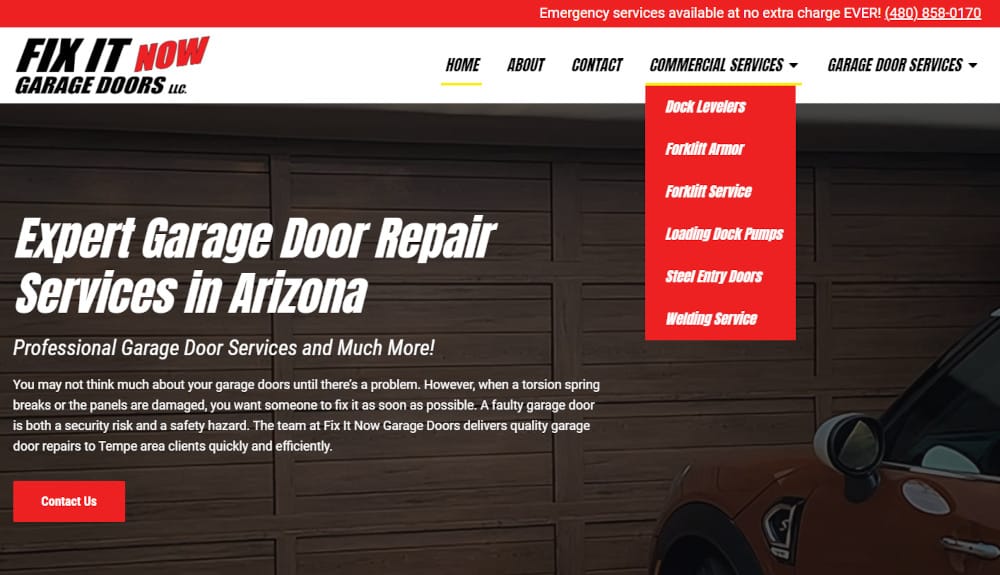 A picture is worth a thousand words, and this is particularly true for contractor websites. Showcase your best work in a portfolio section to provide tangible evidence of your skills and capabilities.
Customer testimonials help build credibility and trust. Positive feedback from satisfied clients can significantly influence a potential customer's decision to hire you.
Regularly posting informative, engaging blog posts can help position your contracting business as an industry leader. This not only helps with SEO but also provides valuable content to share on social media or in email newsletters.
This page is your chance to tell your business's story. Highlight your experience, qualifications, and what sets you apart from the competition.
Make it easy for visitors to get in touch with you. A well-structured contact form should be easy to find and use, and should reassure users that their information will be kept private.
Link your website to your social media platforms to enhance your online presence and provide additional avenues for engagement.
Each of these features plays a critical role in your website's effectiveness. By implementing these essential features, you can ensure your contractor website not only attracts visitors, but also converts them into clients.
Click or Tap-to-Call Links
Particularly important for mobile users, these links make it easy for potential clients to initiate a call to your business.
Advanced Features and Integrations for Contractor Websites
With technology continually evolving, there are many advanced features, integrations, and software solutions that can enhance your contractor website's effectiveness and streamline your operations. Here are some noteworthy options:
Client Portal Integration
Linking to your project management system or client portal on your website provides a centralized place for clients to check project progress and facilitates communication.
Automatically adding website leads to your Customer Relationship Management (CRM) system can save time and ensure no lead falls through the cracks.
Tools like CallRail help you understand where your leads are coming from, which can provide valuable insights for optimizing your marketing efforts.
Software like Mouseflow records user activity on your website, providing heatmaps and other analytics that reveal how users interact with your site.
This tool offers comprehensive data about your website's performance, helping you understand user behavior, site traffic, and more.
This free tool from Google helps you monitor and troubleshoot your website's presence in Google Search results, alerting you to issues like broken links and 404 pages.
This feature allows potential clients to provide detailed information about their needs, helping you provide accurate, customized quotes more efficiently.
Online Payment Integration
Linking your website to your payment system or bookkeeping portal can streamline the payment process for both you and your clients.
Collecting email addresses and sending out value-packed newsletters can help you nurture leads and maintain relationships with existing clients.
This feature provides instant customer support, answers common questions, and can even gather information from potential leads.
These advanced features and integrations not only enhance the user experience on your website, but they can also automate and streamline your business operations, allowing you to focus more on what you do best: delivering high-quality contractor services.
The Role of Web Design in Contractor Websites
While the content on your website is undoubtedly important, never underestimate the power of aesthetics and user-friendly design. Your website's design should not only reflect your brand but also make navigation intuitive for visitors. Aspects such as color schemes, font selection, and layout can significantly affect user experience and, by extension, conversion rates.
The Importance of SEO in Contractor Website Services
Search Engine Optimization (SEO) is the practice of optimizing your website to rank higher in search engine results, thereby increasing your online visibility. SEO techniques can include using relevant keywords in your content, optimizing page loading speeds, and ensuring your website is easy to navigate. For contractors, local SEO is particularly important as it helps attract clients in your specific geographical area.
The Power of Content Marketing for Contractor Websites
Content marketing involves creating and sharing valuable content to attract and engage a target audience. By providing relevant and helpful blog posts, infographics, videos, or even eBooks, you can position your contracting business as an industry expert. This strategy not only boosts SEO but also helps build trust with potential clients.
Mobile Optimization: Why It's Crucial for Contractor Websites
With more people browsing the web on their mobile devices than ever before, it's vital for your contractor website to be mobile-friendly. This means ensuring your website loads quickly on mobile devices, is easy to navigate, and that content displays correctly no matter the screen size.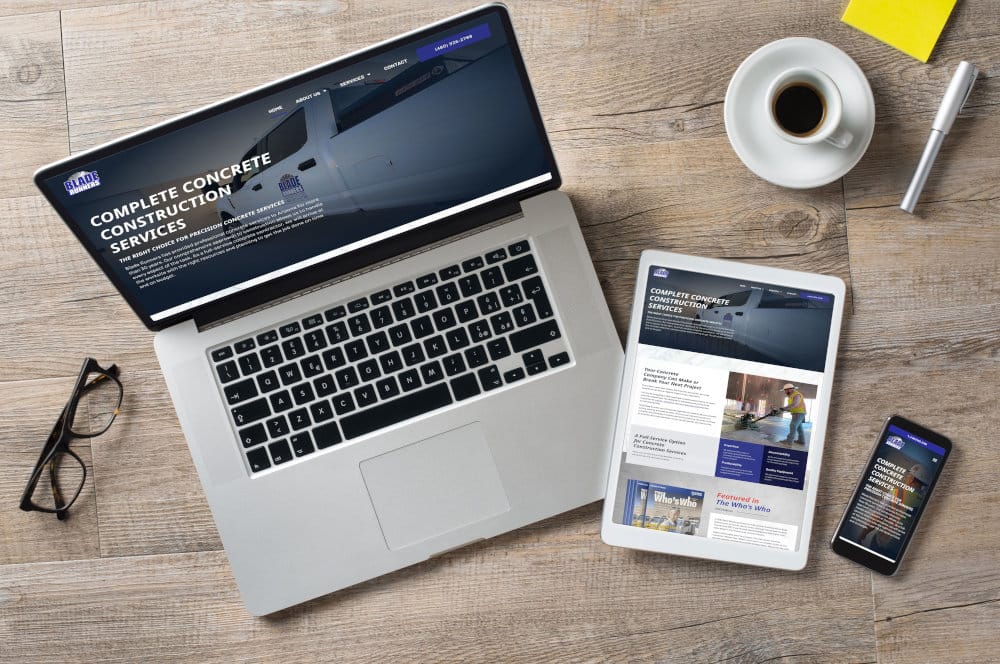 Choosing the Right Contractor Website Services Provider
Selecting a service provider requires careful consideration of numerous factors. Here are some essential elements you should look at when choosing your contractor website services provider:
Ensure your chosen provider has a solid track record of creating effective websites, particularly within the contracting industry. Their past work can provide valuable insights into their capabilities and the quality you can expect.
A provider's portfolio can give you a feel for their design style, technical expertise, and ability to create a website that aligns with a company's brand identity.
Customer Reviews and Testimonials
Always check a provider's reviews and testimonials. Past clients' experiences can give you a good sense of what it's like to work with the provider and whether their services deliver the desired results.
While it's important not to base your decision solely on price, you should consider whether the cost of the provider's services aligns with your budget.
Excellent customer service is crucial. Your provider should be responsive, communicative, and willing to go the extra mile to ensure your satisfaction.
In addition to these points, consider choosing a provider you can grow with. As your business evolves, you might need additional services like PPC (Pay-Per-Click) marketing, off-page SEO, business listings management, and more. A provider that offers a comprehensive suite of services can be a valuable partner in helping your business adapt and thrive in the digital landscape.
Remember, your website and online presence are long-term investments. Thus, choosing the right provider for contractor website services is a decision that can significantly impact your growth and success. Take the time to thoroughly evaluate potential providers to ensure they're a good fit for your current needs and future ambitions.
Essential Services and Characteristics of a Contractor Website Service Provider
Selecting a contractor website service provider is about more than just getting a website built. Your provider should also offer comprehensive ongoing services, including hosting, maintenance, and timely edits, to ensure that your website remains up-to-date and secure. Here's what to look for:
Website Hosting and Maintenance
Your provider should offer reliable hosting to ensure your website is always accessible. Regular maintenance, including updates to your website's platform and plugins, is crucial for security and optimal performance.
Your provider should be responsive and capable of making edits or fixing issues quickly to ensure your website remains functional and current.
A great provider will be open and clear about their processes, pricing, and strategies. You should always know what you're paying for and why.
Your provider should adapt to your preferred methods of communication, whether that's email, phone, or video conferencing, ensuring that you always stay in the loop.
Detailed Updates and Reports
Your provider should regularly report on your website's performance, including uptime, malware scans, vulnerability scans, keyword rank tracking, and more. Reports might also include video screen recordings, snapshots, or other visual aids to help you better understand the work that's being done.
Your provider should be knowledgeable about the latest trends in website design, SEO, and digital marketing. They should be able to offer insight into future technology trends and help you understand what strategies you should focus on next.
Good chemistry is essential for a successful partnership. Your provider should be easy to work with, respectful, and genuinely interested in helping your business succeed.
Consultation and Strategic Planning
A good provider will offer regular consultations to discuss your website's performance and brainstorm future strategies. These sessions can help you understand where your website is doing well, where improvements can be made, and what steps you can take to achieve your business goals.
In conclusion, choosing a contractor website services provider is a strategic decision that requires careful consideration. By selecting a provider that offers these key services and characteristics, you can ensure a fruitful partnership that will help your business grow and thrive in the digital world.
The Future of Contractor Website Services
As technology continues to evolve, so too do the best practices for contractor website services. Upcoming trends, such as voice search optimization and AI-driven personalization, are set to revolutionize how businesses engage with online visitors. As a contractor, staying abreast of these trends will help you maintain a competitive edge.
In conclusion, investing in contractor website services is an essential step towards business growth and success. By understanding and implementing the key components discussed in this guide, contractors can attract more website visitors, generate more leads, and secure more clients.
Interested in learning more about how contractor website services can transform your business? Contact us today for a personalized consultation.