Modern businesses must look for every possible advantage to achieve success. In addition to physical marketing techniques like billboards and direct mail marketing, they also need to seek a robust online presence. Examining where your business appears in Google search results is an intelligent place to start.
In November of 2021, Google announced a change to its business offerings. The service formerly known as Google My Business would now be called Google Business Profile. The switch is part of Google's effort to simplify establishing an online presence for small businesses. Instead of working with an app, businesses will now be able to update their profiles directly in Search and Google Maps.
The Relationship Between Internet Search Results and Client Engagement
When someone is looking for products, services, or a new restaurant, a Google search is often the first step. If you are like most consumers, your typical search never gets past the first page of results. Most searchers do not scroll further than the first five entries on that first page.
Fortunately, Google offers a free Google Business Profile for businesses with an in-person customer component. When someone searches for your business online, a Google Business Profile website appears below the ads but above the general search results. In this interface, customers can simply tap a button to review your website or call you directly. When you optimize your profile, this area will provide a wealth of information that will encourage customers to come to your door.
Claiming Your Free Google Business Profile
The first step in the optimization process is claiming your business on Google. If you search for the name and location, you may discover a rudimentary profile created by Google from publicly available information. Underneath the address and phone number, you will see a link with the text, "Own this business?" After clicking on it, the site will take you to the initial input screen.
You can also claim your business by inputting your address into Google Maps. When you right-click on the screen, you can follow the Add My Business option. This option is also available in the click menu in the search bar on the top left of the screen.
Finally, you can also go to Business.Google.com/Create
Inputting Basic Information
Continuing to set up Google Business Profile involves entering basic information about your establishment. The data you provide allows Google to place you on Google Maps. However, your free Google Business Profile will not move forward until you confirm this information, a security measure that prevents fake profiles and other fraud.
When inputting this information, you want to confirm that all the data is the same across your marketing platforms. The phone numbers on your social media pages and website should match the number you input here. Conflicting information can delay your verification process.
Google Business Profile Verification
You can perform the Google Business Profile verification in several ways. Like other two-step verification processes, Google will send you a code that you must enter to continue updating your profile. In many cases, this step will be as simple as receiving a code via text, call, or email.
However, if there are any issues, Google may want you to verify your information more than once or through direct contact like a video call. Businesses in areas with limited cell and internet service can also seek verification by asking Google to send a postcard with the code.
Working with the Google Business Profile Dashboard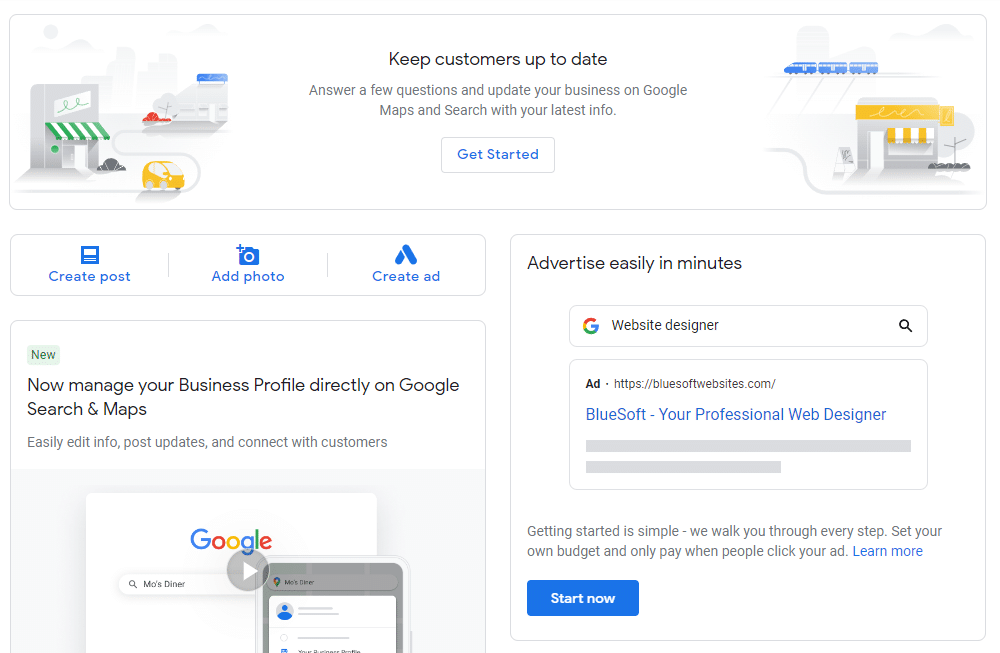 Once you have verified your business, you can access the Google Business Profile dashboard. Using this platform wisely will set your business apart from the competition. You will quickly discover that the profile can include much more than basic contact data and business hours. The Google Business Profile dashboard lets you add content, list reviews, and connect with customers.
Your Category and Attributes
Each step to set up Google Business Profile helps paint a clearer picture of your organization. First, you will assign a category to your business. Google has a list of over 2,300 categories to meet your needs.
You want to be as specific as possible. However, Google does not allow custom categories. If you cannot find a label that describes your business, you will need to choose a more general tag. You can also select more than one category if you have multiple specialties at your establishment.
Adding attributes to your profile adds information that can refine searches. Your category may be Pizza Restaurant, but adding information about a patio will let your business appear in searches for Outdoor Dining. Attributes also inform consumers about amenities, options, and accessibility at your location.
Well-chosen pictures give potential customers a glimpse of your personality. The profile picture is a branding opportunity. When consumers see your official logo by a comment, they will know that it is reliable information.
The cover photo helps customers recognize your place when they come in person. Some businesses like using an exterior shot that locates the store in space. Others prefer an interior picture that highlights your style and atmosphere. Your Google My Business website can also include a video to provide more details about what makes your business unique.
How to Optimize Google Business Profile for the Best Results
Your free Google Business Profile can be an effective marketing tool when it is optimized to draw attention. It is easy to enter basic information and forget about the platform. However, consistent updates and regular interaction will improve your connection and reputation with your clients.
Search result algorithms favor organizations that provide regular updates. If you change your schedule or any contact information, update your profile as soon as possible. Adding new content like pictures of special events is another way to show that your business is active and thriving. Including photos submitted by clients will also foster customer loyalty.
Seeking and Responding to Reviews
The review section of your Google Business Profile is a critical space for some of your attention. You should encourage customers to submit reviews of your business. Potential clients not only read these statements, but they will also notice how you respond. A quick note of thanks for a positive review is always a welcome action.
Responding appropriately to negative reviews also reflects your customer care attitude. Apologizing and asking how you might do better can go a long way in softening the blow of a harsh critic.

To help businesses provide up-to-date information, Google allows you to post temporary updates. Working with Google Posts makes your profile more relevant to consumers. Posts can cover a wide array of information including
Photos
Call-To-Action Buttons
Sales and Other Temporary Offers
Special Events
A Google Post will automatically disappear after seven days, so permanent changes belong in a different section of your profile.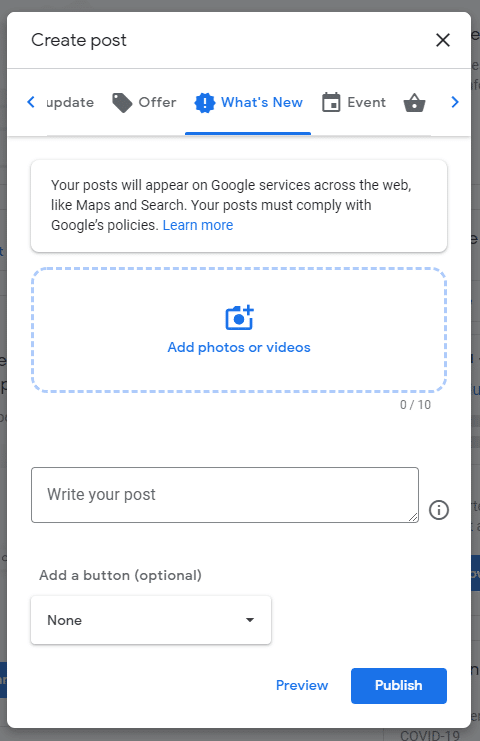 The Benefits of Optimizing Google Business Profile
Time is precious for small businesses. However, optimizing a Google Business Profile is well worth the effort. This free marketing tool can offer new leads, expand your reach, and help you become the local leader in your category.
Google includes a messaging tool so that you can reach out directly to customers through the platform. This messaging service uses SMS technology without revealing anyone's cell phone number. A quick message will answer questions and demonstrate that you are a responsive business. A fast response time will also improve your reputation as an expert in your field.
Higher Rankings than Competitors
Optimizing your profile improves your placement on search results because search engines give more weight to businesses with an active online presence. Such businesses maintain accurate information and have more customer reviews than those that do not put an effort into their profiles.
Marketing Across Platforms
Your free Google Business Profile lets you coordinate your online marketing across platforms. The profile includes links to your website and social media sites. It also coordinates information between Google Search and Google Maps, two of the most common ways that people search for businesses.
Placing Your Business as the Primary Choice
Steps to optimize Google Business Profile will assist you in your efforts to become the primary choice for products and services in your market space. Providing accurate, timely information lets potential clients find you in the real world. Responding to questions, messages, and reviews improves your reputation for expertise and customer care. Taking advantage of everything your Google Business Profile has to offer will help you connect to customers and increase your sales.